As the world population increases and more people travel, taking trips in a manner sensitive to the preservation of the cultural and natural environment becomes ever more important. In this article, guest writer, Alison Abbott, shares her 10 tips for sustainable eco-friendly travel with Midlife Boulevard readers.
Alison's interest in travel was born during many work trips for her 25 year career in fashion and design. She subsequently used her design skills in eco-friendly home renovations. She married her passions for travel and preserving the environment in her encore career as a travel and lifestyle writer both on her own Green with Renvy blog and in writing for other publications.
Alison describes her blog as "an enjoyable riff on the concept of renovating your travel and lifestyle in sustainable shades of green".
Here are Alison's 10 tips for sustainable eco-friendly travel:
1. Do your homework. Study some history before you hit the road.
I'm one that spends hours pouring over information before I go somewhere new. Travel books and magazines make up my night time reading. I find if I haven't done any research beforehand, my eyes quickly start to glaze over when I'm getting bombarded with information. You'll have a much richer experience and know what sites you really want to see if you have a context with which to filter information. Documentaries, You Tube and travel blogs are great spots to get some first hand experiential information.
Another great read is cookbooks of your intended destination. When I got ahold of Naomi Duguid's Burma-Rivers of Flavor, it wasn't long before I was inspired enough to book a ticket. Filled with mouthwatering recipes, fantastic photos and local history, it was definitely my kind of research!
2. Stay in hotels that work toward responsible, sustainable business practices.
In this category, it's most important to be careful of green washing. Just because a hotel says it's eco-friendly, doesn't mean its doing anything more than recycling kitchen scraps. Certification from one of the many organizations will get you started in the right direction. LEED, Green Key Global, Green Global Certification, Energy Star, Green Seal and Luxury Eco Certification Standard are all reliable sources.
World wide, eco-resorts, boutique hotels and luxury hotels are finding new and inventive ways to keep it local and give back to the community while still capturing an authentic sense of place. At all price points there are accommodations doing positive sustainable work. We just need to look a little deeper when researching and making travel plans.
3. Research indigenous crafts and support keeping the tradition alive.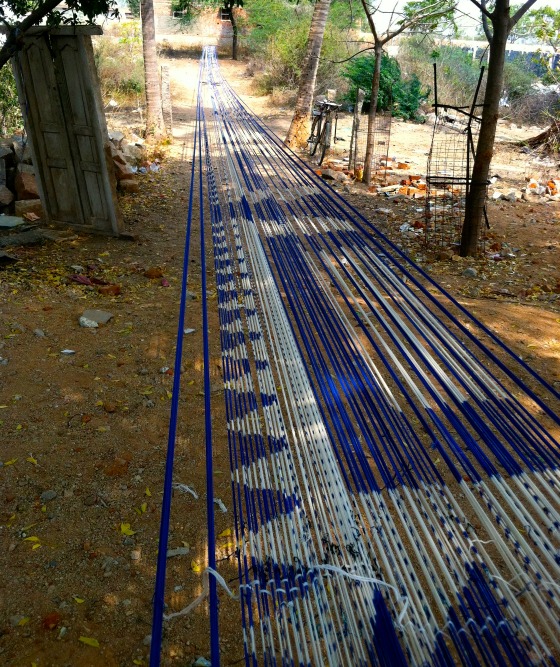 One of the things I hear again and again from elderly crafts people is that their children are not interested in learning the craft that has been handed down from generation to generation. Artisans are a link between the past and the future. If we value their talent and pay a fair trade price for their work, it becomes easier for the next generation to perhaps follow in their footsteps. Keep that in mind when you are trying to bargain away an extra dollar in the market. Learning about indigenous craft helps to keep them alive.
4. As Part of Your Eco-Friendly Travel, Visit markets where the locals go.
Markets geared for the tourists pop up in cities around the world. Try and find out where the residents shop. Frequent flea markets, where you can often find unknown artists and craftspeople. You'll get an inside look at the locals and a peek into the culture. If you're staying in an apartment, shopping at the market and cooking local ingredients can save you money and give you the opportunity to learn more about the culture. I found some real treasures searching through an artist's stall in Yangon.
5. Try a staycation and enjoy your hometown.
Exploring close to home can greatly impact your carbon footprint. We're often so worried about the exotic destination, that we can overlook the wonderful things our own locale has to offer. After all, we did choose to live here, right?
6. Support Organic and Sustainable Food
Farm to Table is the new black. It's possible to find restaurants that support this concept just about anywhere. Look for businesses using organic and sustainable methods. Businesses promoting sustainable farming or fair trade products are the ones that should get your dollars. These are the leaders trying to support a sustainable economy. Try eating Meatless on Monday. Speak with your wallet, it has the power to make positive change. I've had more than a few pleasant surprises trying the local wine.
7. Support Non Profits with a Travel Perspective.
You can benefit charities with your travel. Pack for a Purpose is one of my favorites. The group is dedicated to helping travelers make an impact in the communities they visit. Finding out the specific needs of a community and encouraging visitors to pack these items is their goal. Make room by leaving an extra pair of shoes at home and tuck 4 deflated soccer balls or 400 pencils into you suitcase. Plus, you get the added benefit of additional space to put those local crafts you are now sure to buy!
8. Buy carbon offsets.
When you buy a carbon offset, you fund projects that reduce greenhouse gas (GHG) emissions. The money is put toward advancing environmental protection. Most airline sites will allow you to purchase a carbon offset when you buy your ticket. You can look for the Green-e-Climate certified logo on offset programs in the voluntary market.
9. Learn a few key phrases before you go and smile.
You are an ambassador for your country. Learning a few key phrases and smiling as you butcher "Mi soon persa. Potresti aiutarmi? the first time you try to it in public will be greatly appreciated by the locals.
Your behavior leaves a lasting impression. I was in a small village in Gujarat, India many years ago. Lingering to get the last picture and make sure I didn't miss anything, the rest of my group got ahead of me. Suddenly I found myself being pulled by a male elder away from the group. He was adamant and I was terrified. It turns out he wanted to show me the shiny brand new tractor under a tarp the village had just purchased. He was proud and wanted his picture taken in front of it. I was seconds away from a scream. That encounter changed something in me when I travel, and opened my eyes to make a connection with people even when I'm out of my comfort zone.
10. Incorporate travel into your family life.
It doesn't have to be exotic, but sharing travel with your children can open their eyes to the world. We see horrific examples everyday of the fear some people have of education. Why? Because it will change the world, and they don't want to change. The next generation will have plenty to deal with, and learning the importance of sustainable travel early on will leave a lasting impression. It certainly did on me!
"Let every individual and institution now think and act as a responsible trustee of Earth, seeking choices in ecology, economics and ethics that will provide a sustainable future, eliminate pollution, poverty and violence, awaken the wonder of life and foster peaceful progress in the human adventure."
— John McConnell, founder of International Earth Day
Do you have any tips for sustainable eco-friendly travel to add to the list?
You can also follow Alison Abbot's travels on Instagram and on Facebook.