Maura Sweeney spends her time helping others feel better, stronger and more confident. Read more from Maura on her blog.
Will an Ivy League degree — or even your next advanced degree — bring you happiness, satisfaction and personal success?
I'm not sure if two recent trips around the northeast or August back-to-school fever prompted this question that beckoned a response.
Surprisingly, within a 10-day time span, I'd visited over a dozen university campuses to query students, observe campus cultures and cultivate something of an answer.
I've always venerated higher thought and education played a significant role in my upbringing. So did the pursuit of happiness. At times, my desire for happiness conflicted with social beliefs and educational expectations.
For example, in their effort to have me follow in my grandfather's footsteps as an attorney, my parents sent me to a private prep school for girls. The education was supposed to be better than our public high school, but the constricting atmosphere dampened my spirit. I excelled in academics but also turned anorexic.
A return to public high school buoyed me and I regained energy as well as girth.
By the time I was college bound, the need for an appealing culture was as important to me as access to a quality education. Stepping onto the grounds of Boston College during a campus visit, I knew I'd found a welcome home. I sensed a place where I could grow intellectually while remaining pleasantly grounded.
However, law school proved a different experience. Trying to please parents whose professional goal for me had never changed, I moved back to New Jersey after graduation and trudged into my next academic chapter.
My LSATs were decent. I'd been accepted to several law schools in New York but instinctively knew that commuting via public transportation during inclement weather would prove an easy deterrent to attendance. I opted instead for Seton Hall Law School in Newark, a mere 12-minute drive from home.
Our L1 class was intimate. I marveled at several fellow classmates who carried passionate desires for a future in law. Two others who spent several post-graduate years gaining business and life experience knew exactly why they were pursuing a J.D. too.
For me, there was neither passion nor sufficient life experience. I perceived no joy spending the majority of my adult years practicing law. I exited mid-stream and never looked back.
While the loss to my family was palpable, I could no longer carry the excess weight. I was purposed to find my own life calling and could no longer support the expectations of others. The decision to leave was daunting. However, the rewards of developing my own talents and paving my own path to professional success proved golden.
I marveled at this most recent university pilgrimage which spanned two recent trips up north.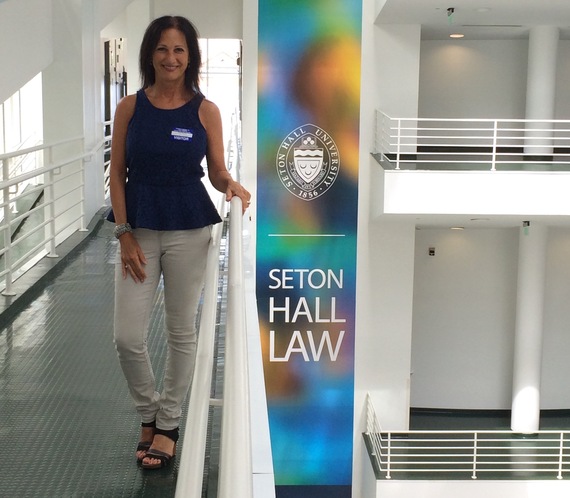 Smiling during my recent return to Seton Hall School of Law
A trip to New England with my husband for his New England Basketball Hall of Fame induction gave us a few days for tooling around the region by car. While in Connecticut, we toured the campuses of Yale, Trinity College and Quinnipiac University .
A visit to Providence, Rhode Island brought us to College Hill for Brown University and Rhode Island School of Design. Checking out the resort town of Newport, I stumbled upon Salve Regina University, uniquely housed within a waterfront mansion.
Onward to Massachusetts, we toured our alma mater Boston College and College of the Holy Cross, another Jesuit institution and BC rival from our era.
As my husband flew back to Florida, I boarded a bus to New York. A few days in Newark, NJ brought me together with old friends and my first return to Seton Hall Law School since my departure.
The next day, a friend pursuing her PhD picked me up for lunch and brought me to Seton Hall's main campus where she's currently matriculating. We toured the quiet grounds and investigated Seton Hall's Graduate School of Diplomacy.
My final stops on the university circuit arrived while spending time with our Brooklyn-based daughter. A lengthy summer walk through Manhattan brought me to the grounds of Columbia University and, finally, to Fordham Law.
Each collegiate venue delivered its own culture and sense of place. I appreciated every school's unique strengths and assets. But rather than checking out admissions statistics, tuition costs or the latest rankings from U.S. News & World Report, I was on a different kind of journey.
I wanted to investigate those on a path of personal happiness and needed to chat with those heading toward career and life satisfaction.
Not surprisingly, I unearthed no correlation between happiness and the more rarefied universities. Neither did I find a lack of expectation or joy at some of the lesser known institutions.
Instead, I discovered that stressed, anxious and sometimes near panic-stricken students were those feeling compelled to attain goals held in esteem by others — rather than themselves.
Conversely, the confident and energized students were those whose university provided them with the conduit to do what they had a personal passion for and engage with what they truly loved.
While at Columbia, I was inspired to ask about the pillars of our lives. The question is as pertinent for the academic as it is for anyone on a path toward life purpose and satisfaction.
A young coed I chatted with captured my reflective question on video. I hope you pause to watch it and ask yourself this question, too.
You may be studying as an undergrad, a graduate student or even as a life long learner.
Whatever your goals, may you find your pursuits of higher learning helping you to raise the unique — and satisfying — pillars of your life!
If you're struggling with an eating disorder, call the National Eating Disorder Association hotline at 1-800-931-2237.