Last month at the BAM Conference in Nashville, one of our great sponsors was Albertini International, a beauty brand that tailors skin care for midlife women.
Albertini International is the creation of Valorie Albertini, a long-time beauty expert who has spent 25 years testing and developing skincare and hair products for major manufacturers. Valorie noticed her own skin changing in middle age and developed these products in response. Personally, I've noticed an increase in dryness in some areas of my face, while other parts are having a second teen phase, with excess oil and breakouts. It's the worst of both worlds with my skin due to perimenopause.
For the last month I've been testing out samples of three Albertini International products I received at the BAM Conference. Here are my thoughts.
Albertini Rough Love Body Scrub
How can you not love the name? This body scrub for the shower is an exfoliating treatment that claims to smooth and soften your skin with a salt/mud infusion. It also contains rosemary and eucalyptus oils, which give it a bracing scent.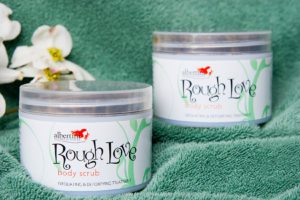 WHEN TO USE IT
Use Rough Love body scrub in the shower after cleansing and before applying Divine skin hydrator. The directions say you can use Rough Love body scrub 1 to 5 times per week depending on your individual skin needs.
HOW TO USE IT
Apply generous amounts of Rough Love body scrub to your skin while you are in the shower or tub. Gently massage into your skin using a circular motion, then rinse with warm water. Follow with Divine skin hydrator onto the damp skin. Don't use it on your face! I used a small dollop once or twice a week, focusing on my elbows and knees.
RESULTS
Rough Love body scrub claims to remove dead skin cells from your body, resulting in smoother and softer skin. I noticed my skin did feel smoother. I was concerned that the strong eucalyptus scent would linger on my skin, but it washes away with the salt granules. I did like the smell of eucalyptus and rosemary while I showered–it was invigorating!
Warm Love Pumpkin Exfoliating Mask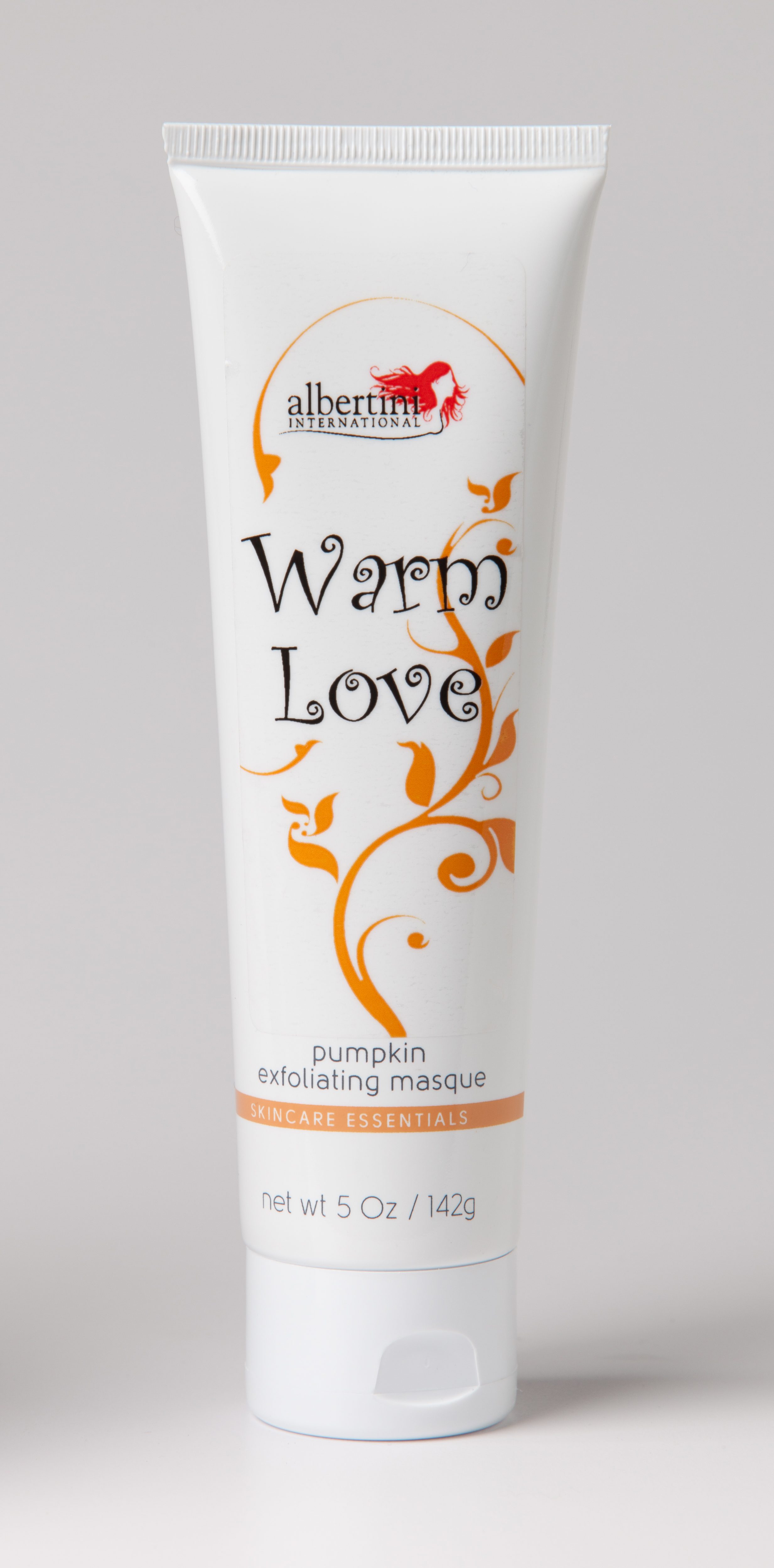 The Pumpkin Exfoliating Mask contains pumpkin, papaya and pineapple enzymes that claims to purify, exfoliate and brighten your complexion while also stimulating new cell growth.
WHEN TO USE IT
Directions say to use Warm Love pumpkin exfoliating mask after cleansing your face, and prior to moisturizing. You can use Warm Love mask once or twice a week. I used it after washing my face in the shower.
HOW TO USE IT
I applied Warm Love pumpkin exfoliating mask to clean, dry skin. I used an amount about the size of a quarter. Once I spread it all over my face , I massaged it in for a few minutes. It had a slick feel, like a thinned out mud mask. It had a few rough kernels in it that looked like bits of pumpkin seeds.
I was worried it would smell like raw pumpkin, a smell I'm not fond of, but it smelled quite nice. like a piece of spice cake. I rinsed my face after a few minutes and thought my skin felt very soft, clean and even dewy. The directions say that for increased benefits you can leave the mask on for up to ten minutes.
RESULTS
The product claims that the Warm Love pumpkin exfoliating mask removes old skin cells and stimulates new cell growth. I did think my skin felt nice and smooth after using. I recently went to a very nice spa at a resort and they used a pumpkin treatment on my face as well. I much prefer the Warm Love mask–it works as well, smells better, and is much less expensive than the spa treatment!
Divine Skin Hydrator
This product is an in-shower body moisturizer created specifically for women over 40 to helps restore your skin's natural moisture factor by rehydrating and soothing rough, dry skin. It's unscented, which I greatly prefer.
WHEN TO USE IT
Directions say to use in the shower, immediately after cleansing and rinsing, while your skin is still damp. You should use it after you've rinsed conditioner out of your hair and soap off your body. Applying Divine skin hydrator should be the last thing you do before you get out of the shower. Albertini International claims Divine skin hydrator is gentle enough to use every day, and is especially useful during the winter or in drier climates.
HOW TO USE IT
Directions say to cleanse and rinse off in the shower, making sure you have rinsed conditioner out of your hair and soap off your body before applying Divine skin hydrator. Using Divine skin hydrator is the last thing you do before you get out of the shower. Apply small amounts of the product to your damp skin in areas where the skin is dry.
RESULTS
I love this product! My skin felt soft and smooth immediately, without being greasy or sticky at all. I used it on my legs after shaving and experienced no irritation at all. I've noticed an improvement in my dry, itchy end-of-winter skin. I've even been using it on my hands like a lotion. This is a product I will continue to use.
More From Albertini International
Check out Albertini's other products Ageless Sun, a sunless tanning cream for face and body and Tint Plus, a lightweight tinted moisturizer that doubles as daily sunscreen with SPF 20.
If you'd like to try this skincare for midlife women for yourself, Albertini International has provided us with a coupon code for 20% off and free shipping. Order through the Albertini website and use coupon code BAM at checkout.