Kim Dalfares is hilarious, but we wouldn't want to mess with her gym routine! Enjoy this exercise humor, then read more from Kim on The Middle-Aged Cheap Seats.
Each summer, we midlifers ready for the coming incursion. Right about the time we've perfected our routine, established our rapport with the instructors, and staked our claim to our preferred spot in the room, they swarm in and wreak havoc upon our community.
I am of course describing the coeds who invade the gym and our exercise classes each summer when they return home from college.
We middle-aged gals have been working diligently since January, trying with all our being to slow the gravitational pull causing our girls to race toward our knees. In the middle-aged cheap seats, it's mostly about maintenance and prevention – yeah, preventing our asses from spreading! Oh, and it's also of course about health–gotta keep the joints moving and the muscles strong.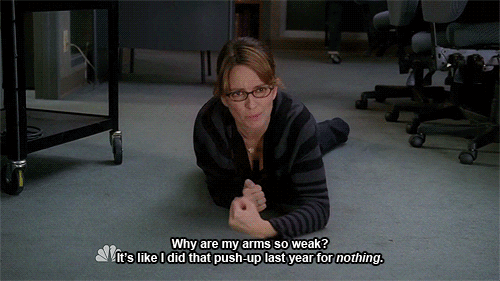 The coeds do not understand any of this, and why should they? They're in their prime. A diet for them means a six-inch sub in lieu of the large 12 incher (easy gals, I know where this discussion of inches can go if we're not careful…). I certainly don't want to declare war against this next generation of women and I applaud them for their commitment to exercising those young bods of theirs. However, we need to establish a few ground rules.
Stay out of my spot. It's taken us midlifers six months through a long winter to work out our preferred locations in the weight training class. Show a little respect and head to the front – none of us wants to be in the front.
Wear a shirt. Exercising in a sports bra sans shirt is not acceptable. We get it, your girls are still your friends. Good for you. Now cover them up. It can be a skimpy tank top, but it needs to be some kind of shirt. We've discussed this behind your backs, counter measures could include our removing our shirts as well, and no one wants to see this.
Move it along. We're not at the gym to flirt. At our age, ain't no one got time for that. Listen, we're not begrudging you the chance to chat up the hot guy on the abs machine – go for it! But please get off the equipment and take the conversation over to the power-smoothie bar. By the way, that hunk in the orange shirt over to the left is my neighbor's son. He's a wonderful young man with a bright future in plastics. You're gonna wanna put in some effort, trust me.
No complaining in the locker room. Uttering the words, "I think these size six shorts make me look fat," will get you locked in the toilet stall.
Have the decency to make it look a little difficult. As I'm huffing and puffing on the treadmill next to you, have the courtesy to sweat just a little bit as you sprint to the end of your five mile program.
Maybe this all sounds a tad pitiful and jaded and jealousy-ridden. Yeah, well, so be it. But hey, you're in my spot.
Where do you work out? Any midlife exercising tips you'd like to share?