Are you coming to the Bloggers at Midlife Conference in Nashville next week?
This is the perfect time to visit Music City. Nashville is growing by leaps and bounds and has become a city brimming with diversity, creatives, artisans, and designers. In fact, Thrillist has named East Nashville one of the 12 coolest neighborhoods in America. There's no doubt that we are the "it" town of the moment, and visitors are often unaware of the little gems – the shops and restaurants that are part of the New Nashville – that your hotel concierge won't tell you about.
But I will. Here are some of my favorite shops and restaurant you really should visit – and they're all wheelchair accessible.
Downtown
UAL –
2918 WEST END AVENUE, NASHVILLE
How about a little Marc Jacobs, Valentino, Gucci, Balmain, Mr Q, Tom Ford, Balenciaga, Rag & Bone, Givenchy, or Zac Posen at 70-90% off? Have a look inside UAL, one of Nashville's best kept secrets. This nondescript little store is tucked into a strip mall that's hiding in plain sight on West End Ave, which is a main drag downtown.
MARGARET ELLIS JEWELRY – 209 10TH AVENUE SOUTH, SUITE 309, NASHVILLE
Jewelry designer Margaret Ellis opened the shop in 1983 and Mclaine Richardson took over 30 years later. Richardson is the one responsible for bringing us Amanda Valentine's Roman Holiday collection, and her own designs are truly beautiful. There is a simplicity of form that highlights the meticulous attention to detail and perfect – yes, perfect – execution. The pieces are clean and modern with lots of classic references. In short, they reflect Mclaine's personality.
PINEWOOD SOCIAL – 33 PEABODY STREET, NASHVILLE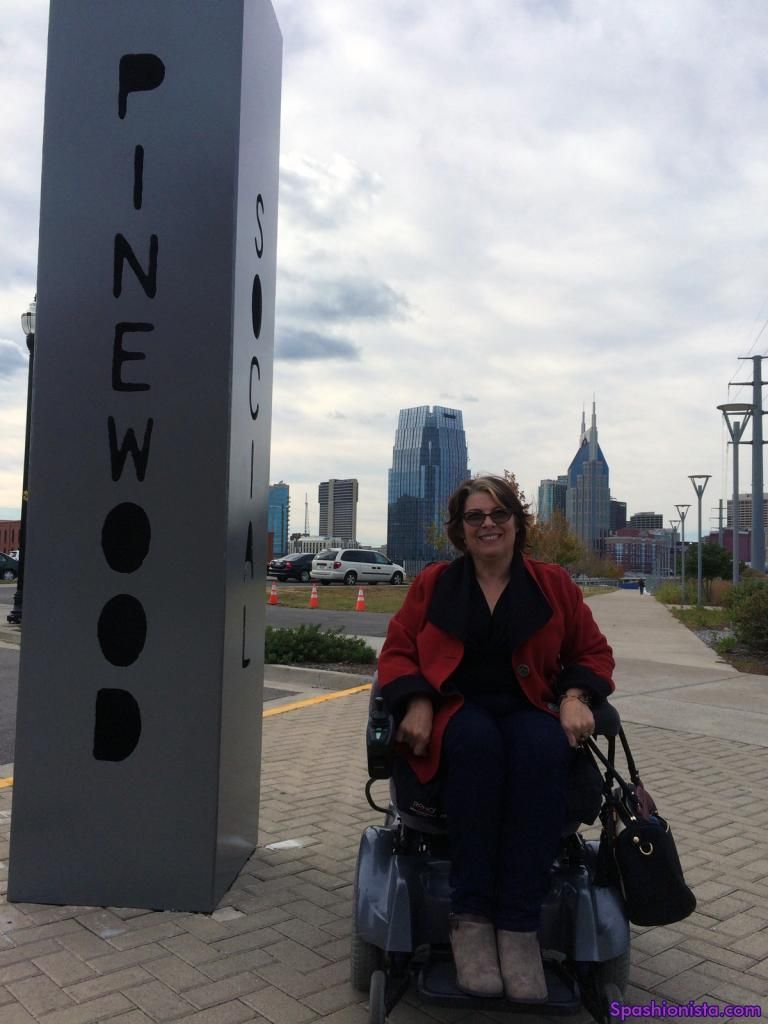 Pinewood Social is one of Nashville's newest dining and socializing experiences. It's become one of Nashville's must-visit culinary establishments. The spacious brick building is divided into multiple lounging and dining areas with a central bar and a small bowling alley in the back. But the offbeat, unpretentious food is the main attraction. You haven't lived until you've tasted fried broccoli – no breading, just flash-fried – with lemon zest and almond garlic dipping sauce. I highly recommend hanging out with friends for Sunday brunch.
East Nashville
TIFFANY'S BOUTIQUE –
1006 FATHERLAND STREET, SUITE 201,
NASHVILLE
There really is something here for every woman, including girls that eat lunch and remember the fashions from their first time around. Tiffany – yes, 80's pop-star Tiffany – makes time while she travelling and touring to collect vintage pieces to bring back to Nashville for the boutique. If you're a woman who isn't afraid to stand out or loves the current Boho look you simply must check this shop out. You can also shop a number of items online. Prices are very reasonable, and the staff are wonderful.
TRUNK –
1006 FATHERLAND STREET #202, N

ASHVILLE
Another Nashville original near and dear to my heart is Nashville's first fashion truck Trunk. Abby has always gone out of her way to help me find great pieces, even though the truck is totally inaccessible. Fortunately, Trunk has a brick-and-mortar store right next door to Tiffany's Boutique. They carry new merchandise for chic, funky women of all ages.
ANY OLD IRON – 1629 SHELBY AVENUE, NASHVILLE
British-born Andrew Clancey has relocated Any Old Iron, his punk-inspired UK designer clothing boutique, from the Big Apple to a converted grocery store in Music City. The boutique is exactly what Nashville needs right now. Vivienne Westwood, Religion, skulls and black leather and safety pins. Lots of safety pins; bedazzling (bepunking?) jackets and shirts. Not into punk? OPIUM has a divinely curated rack of vintage designer clothing and accessories tucked away in the back of the store.
LOCKELAND TABLE – 1520 WOODLAND STREET, NASHVILLE
Hands down my favorite place to eat in Nashville. The restaurant is small and cozy and the vibe is casual and laid-back. Chef Hal Holden-Bache won last year's Iron fork competition, and his menu features predominantly locally-sourced ingredients. Don't let the simplicity of the menu fool you. These dishes have a real depth-of-flavor that will astound you, and I've yet to have a better meal anywhere else. I suggest making a reservation and taking a stroll down Woodland Street while you're there.
South Nashville
Couture for a Cause is a nonprofit resale boutique where donors select a local nonprofit that benefits from a portion of the sale of their donated, high-end clothing. Shoppers then have the opportunity to buy on trend pieces for a fraction of retail prices while helping charities in Nashville. Some of Nashville's finest, like Trisha Yearwood, donate their gently used or never worn items for resale. My latest visit yielded a dress so special I'm going to wear it for my 25th anniversary – and it was just $45!
If you're looking for the very latest in edgy, elegant fashion then this is the place. Stacey's fashion sense is ageless and always on point. Rhodes' inventory includes pieces from Amanda Uprichard, Abi Ferrin and SW3 Bespoke – designer's featured during last year's Nashville Fashion Week – as well as exquisite bags by this year's Nashville Fashion Forward Fund recipient Ceri Hoover, The boutique provides local TV personality Kacy Hagerty's wardrobe, and Emmylou Harris, Carrie Underwood, and Taylor Swift all shop here. Look for a featured blog post about the boutique on Spashionista.com in the very near future.
THE CHEF AND I – 6900 LENOX VILLAGE DRIVE, SUITE #14, NASHVILLE
This little jewel of a restaurant is tucked away in between Brentwood and Antioch. They did some of the catering for the Saints and Sinners Event last month and it was stellar. There was only one problem; they didn't have any wheelchair seating. I'm happy to report that they wasted little time in adding an accessible table so I paid them a visit, and it was the highlight of my weekend. Diners can choose from a full menu or sample some small plates. I chose the latter, and I wasn't disappointed. The food is always made in-house, from scratch, inventive combinations of classic ingredients like chicken salad with avocado, duck comfit with potato hash, and blackberry banana sorbet. More details on the blog soon.
Online
If you read my blog you know that Pura Vida Vintage is my go-to for beautiful vintage clothing and accessories. Last August Pura Vida's brick-and-mortar location was destroyed by a fire, but nothing can stop Krystle Ramos from taking Music City by storm. Browse the online shopping site, and if you see something that strikes your fancy, you can try it on while you're in Nashville at Only one Tailoring. PS, they do all of my alterations, including the dress pictured above.
See you at BAM – and let's go shopping!